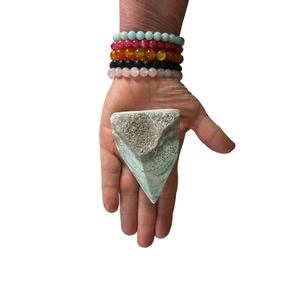 Kate Mcleay
Caribbean Calcite Crystal: Your Path to Calm, Intuition, and Inner Peace
Sale price Price $54.00 Regular price
Tax included.
Shipping
calculated at checkout.
Caribbean Calcite, with its soothing blue hues, is a crystal renowned for its calming, intuitive, and spiritually uplifting qualities. It offers an array of benefits that positively affect the physical, emotional, and spiritual aspects of your being.

Benefits:
Advantages for the Physical Body:
Promotes relaxation, reducing physical tension and stress.
Supports restful sleep and alleviates insomnia.
Enhances overall physical well-being by reducing anxiety.
Emotional Benefits:
Calms emotional turbulence, fostering emotional stability.
Amplifies intuition and enhances communication skills.
Encourages self-expression and emotional healing.
Spiritual Benefits:
Connects you to higher spiritual realms and enhances intuition.
Facilitates inner peace and a deep sense of tranquility.
Encourages spiritual growth and self-awareness.
How to Use:
Meditation Aid: Hold Caribbean Calcite during meditation to access its calming and intuitive energies.
Sleep Support: Place it under your pillow for peaceful sleep and dream recall.
Communication Enhancer: Carry it with you to enhance communication skills and self-expression.
Energy Cleanser: Use it to cleanse and purify your aura and chakras.
Affirmation: "With Caribbean Calcite, I embrace calm, intuition, and inner peace. This crystal amplifies my ability to connect with my intuition and communicate with clarity and compassion. I am filled with tranquility, wisdom, and spiritual growth, guided by the soothing energy of Caribbean Calcite."