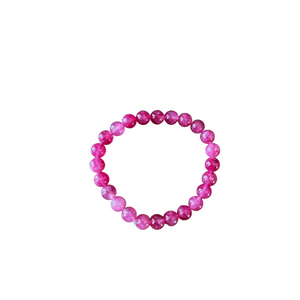 Kate Mcleay
Pink Agate: The Gem of Harmony and Love
Sale price Price $19.00 Regular price
Tax included.
Shipping
calculated at checkout.
Pink Agate, with its vibrant and uplifting shades, is a gemstone that fosters balance and love across various aspects of well-being.
Benefits:
Advantages for the Physical Body:
Enhances overall vitality and energy.
Supports a healthy heart and circulatory system.
Promotes better sleep patterns and relaxation.
Aids in digestion and metabolic balance.
Emotional Benefits:
Encourages self-love, compassion, and emotional healing.
Eases stress and anxiety, bringing tranquility.
Balances emotions, fostering stability.
Enhances creativity and self-expression.
Spiritual Benefits:
Connects to the heart chakra, fostering love and forgiveness.
Amplifies the flow of positive energy and inner peace.
Facilitates deeper meditation and introspection.
Strengthens the connection to universal love.
How to Use:
Wearable Beauty: Adorn yourself with Pink Agate jewelry to carry its loving energy throughout the day.
Meditation Ally: Hold Pink Agate during meditation to deepen your connection to self-love and emotional healing.
Decorative Touch: Place Pink Agate in your living space as a decorative reminder of harmony and love.
Gift of Love: Share Pink Agate as a thoughtful gift to inspire love and compassion in others.
Affirmation: "I am a vessel of love and harmony. Pink Agate nurtures my heart and soul, bringing balance and compassion to every aspect of my life. I wear it close to my heart, radiating its loving energy to all I encounter."