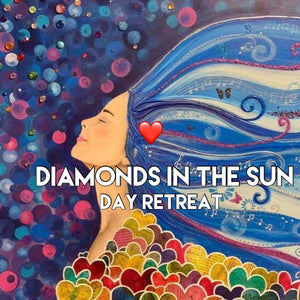 Kate McLeay
April 2024 Diamonds in the Sun - Luxury Day Retreat
Sale price Price $230.00 Regular price
Tax included.
Shipping
calculated at checkout.
 Diamonds in the Sun
Day Retreat 

Sunday 7 April 10:30am  - 4:00pm
" For fast acting relief try slowing down." Lily Tomlin 
A Luxury wellness DAY RETREAT for CHILL SEEKERS.
We have a window of opportunity at the award winning stunning retreat oasis of Cape South.  Carpe Diem.  We've seized the day and put aside the whole property and curated a programme filled with our favourite things.  Especially for you.  
Come join us precious Diamond.  Top up your shine.  Polish the facets of the beautiful unique miracle that is you. 
Event Highlights:
💎

Ceremonial cacao ceremony

💎

Intention setting
💎 Qi Gong & Pranayama (conscious breathing tools)
💎 Yin flow yoga
💎 Two-course retreat lunch
💎 Immune-boosting turmeric tonic shots
💎 House-brewed hibiscus & ginger kombucha
💎 Fresh herbal elixirs for inner calm
💎 Mindfulness tools for a serene mind
💎 Moonstone meditation ritual
💎 Yoga Nidra for deep relaxation
💎 Sound healing for your soul
💎 Solfeggio Frequencies to elevate your vibrations
💎 A mystic moonstone crystal as a gift to enhance your journey
💎Cake to close
MELT STRESS ❤️ ACTIVATE CALM ❤️ BE INSPIRED
 
This not-to-be-missed day retreat is dedicated to your SELF CARE and DEEP NOURISHMENT.   Whether you are a returning retreater needing a chill fix .. or have a luxury wellness retreat with us on your wish list and haven't made it yet.  This is for you. We invite you to seize the day with us. You will be so welcomed. 
You will leave this retreat feeling more energised, resilient, connected, nurtured, relaxed, mindful, inspired & most importantly oh so good! 
❤️ WHEN & WHERE
Date & Time: Sunday April 7, 10:30 AM - 4:00 PM
Location: Cape South Country Estate and Wellness Retreat, 55 Waipuka Rd, 8 minutes from Waimarama, 10 minutes from Red Bridge Cafe.
🛍️ WHAT TO BRING
Yourself and comfortable clothes to move in.
We provide yoga mats, bolsters, blankets, and water, but feel free to bring your own if you wish.
💰 COST & HOW TO BOOK
Price: $230 (includes GST)
❤️ About your Hosts


Kate McLeay 
Kate is a former International School Principal who now dedicates her time organising and hosting Wellness Retreats and curating and delivering Mindfulness & Meditation Training and Mindfulness Mentoring. She works with the best of the best who wish to get even better.  Also discerning workplaces, her favoutie Marae and schools and with some former prison yoga legends.  With over two 
thousand hours of well-being training, 15 plus years of teaching yoga and a degree in Education her mother would be happy she's doing something useful.

Cam McLeay 
Retreat Host and Yoga guide Cam McLeay has a passion for wellness and adventure.   Together with Kate, he built, owned and ran tourism ventures in Uganda, East Africa for a decade before returning to NZ 12 
years ago to educate their three children.  Cam, a former banker and still a chartered accountant, established the rafting company Adrift in 6 countries and pioneered rafting on the Nile river in Uganda.  Along with a group of intrepid explorers he co led the world longest river journey from Egypt to a new longest source of the Nile river in Rwanda 6,718 kms. He now enjoys sharing tales of his exploits and guiding adventures closer to home.  

❤️ About the Venue
Cape South Country Estate and Wellness Retreat is award winning, truly stunning and totally unique.   Away from the hustle and bustle this oasis of calm is only 8 minutes from Waimarama Beach, 20 minutes from Havelock North or just 40 minutes from Napier Airport.  Dubbed "The Grand Old Duchess" the gracious 6 ensuite bedroom French Colonial style homestead & 2 ensuite bedroom self contained cottage are situated on 16 acres of grounds and gardens with expansive views of the coastal hinterland.   The land and buildings have been consecrated and blessed for healing and happiness.  Retreat facilities include a mineral pool, gym, spa, infrared sauna, yoga studio, apothecary, medicinal herb and permaculture vegetable gardens.  The venue offers the ultimate luxury escape for a true exploration of wellness.  
❤️ About the Food & Fare
There is a reason for the rave and reputation about the retreat fare at Cape South.  Our food is not only nutrient dense but it is seasonal, fresh and prepared with great love, care and flair.  The menu on this day retreat will be plant based and wheat free - meat free, dairy free and refined sugar free.  Straight from our vast vegetable and apothecary gardens and supplemented by local organic produce.  We invest in organic and aim for zero waste … because it's what we do. 
Some more on some of the program-  
Tibetan Singing Bowls have been used for centuries as a powerful tool for healing and meditation purposes. They create a range of sounds to restore the normal vibratory frequencies of diseased and out-of-harmony parts of the body, mind and soul. Sound has been lauded as the healing of the future- as its enormous potential to bring peace and wellbeing is being widely studied and verified scientifically.
A University of California study to examine the potential effects of a singing bowl meditation reported a significant difference was found in all end points of the study showing-
Better mood
Less tension
Decrease in Anger 
Relief from depression
Less anxiety
Less physical pain
Improved spiritual well-being
Qigong can be described as a mind-body-spirit practice that opens the flow of energy in meridians (energy lines in the body) used in acupuncture and Traditional Chinese Medicine. It enhances our ability to feel the Life Force underlying the physical world and to deepen our communication with it.
There are thousands of qigong styles, schools, traditions, forms, and lineages, each with practical applications and different theories about Qi ("subtle breath" or "vital energy") and Gong ("skill cultivated through steady practice").
Featuring gentle movements, deep breathing and meditation techniques, "Five Treasures Qigong" promotes the circulation of blood and Qi (vital energy) within the body. The practice is rejuvenating and renewing. Just a few minutes of "Five Treasures Qigong" practice evokes states of internal stillness, centering, balance and a feeling of well being. Qigong is also practiced to strengthen the internal organs and the immune system. You will be invited to stay in a comfortable range of motion, seated if necessary. The more you practice the greater the benefit.
❤️ Restorative Yin Yoga
Yin yoga is a beautifully delicious practice that helps us heal both our heart and our mind. It allows us time to sit within ourselves, to just be still, and to notice what the body and mind are telling us.

We use supported restorative yin yoga postures (asanas) and conscious breathing (pranayama) to prepare for yoga nidra. The asana sequence is designed to massage & bring fresh blood to the internal organs, rejuvenate the nervous system, lubricate joints, muscles and ligaments, develop concentration, boost immunity and calm the body. The poses are gentle and accessible for all levels from beginner to advanced. You will feel so good.  


Traditional Yoga Nidra is a potent form of guided meditation that systematically relaxes the body and mind. So simple and scientifically studied.
It rejuvenates and liberates energy from deep within the cells of the body. It has the powerful potential to strengthen and expand consciousness and is used to support deep healing in the body. 45 minutes of yoga nidra is said to have the relaxation benefits of 3 hours sleep and is used therapeutically to treat stress, anxiety and support healing.
The practice of Yoga Nidra has been shown in peer reviewed scientific studies to-
Improve back pain
Fight Insomnia
Relieve Rheumatoid Arthritis
Relieve Tinnitus Stress
Balance PMS Mood
Increase dopamine levels
Lower anxiety and depression symptoms
Combat Post Traumatic Stress Disorder
Solfeggio Frequencies make up an ancient 6 tone scale used in sacred music including the beautiful and well known Georgian chants. Each solfeggio tone is comprised of a frequency required to balance your energy and keep your mind, body and spirit in harmony.

Booking conditions- Please note day retreat payments are non refundable. If you book and life happens in a different wave and for some reason you are unable to attend you are welcome to send someone in your place. Should you wish us to endeavour to fill your place and we can we will give you a full refund less a service fee of 15%.