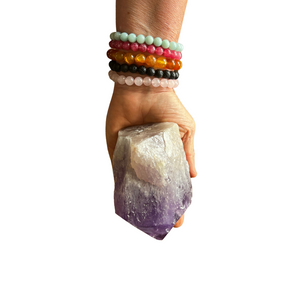 Kate Mcleay
Amethyst Tower: Your Gateway to Tranquility and Spiritual Insight
Sale price Price $180.00 Regular price
Tax included.
Shipping
calculated at checkout.
The Amethyst Tower, with its regal purple hues, brings a wealth of benefits to the physical, emotional, and spiritual aspects of your life.

Benefits:
Advantages for the Physical Body:
Eases tension and promotes relaxation, alleviating physical stress.
Supports restful sleep and relieves insomnia.
Enhances overall physical well-being by reducing anxiety.
Emotional Benefits:
Shields against negative energies, fostering emotional stability.
Calms emotional turbulence and promotes a sense of inner peace.
Nurtures self-love, compassion, and emotional healing.
Spiritual Benefits:
Opens and activates the third eye and crown chakras, enhancing intuition and spiritual insight.
Facilitates meditation, deepening your spiritual practice.
Connects you to higher consciousness and the wisdom of the universe.
How to Use:
Meditation Companion: Hold the Amethyst Tower during meditation to access its calming and spiritual energies.
Sleep Aid: Place it under your pillow for peaceful sleep and lucid dreaming.
Negative Energy Repellent: Keep it in your living space to purify and protect.
Chakra Cleansing: Use it to clear and align your chakras, starting from the crown.
Affirmation: "With the Amethyst Tower, I embrace tranquility and spiritual insight. Its gentle energy surrounds me, fostering emotional balance, promoting physical well-being, and connecting me to higher realms. I am aligned with the divine wisdom and healing energies of the universe, finding peace and clarity within.