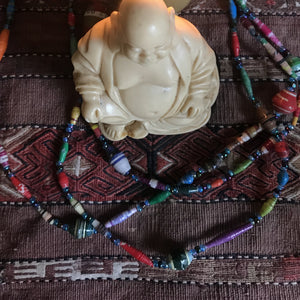 Kate Mcleay
LOVE BEADS - 100% Profit goes back to the Little Light Children's Centre
Sale price Price $30.00 Regular price
Tax included.
Shipping
calculated at checkout.
These beautiful 'LOVE BEADS' are made bespoke for Mumma Soulfood by the women from the little light children's centre in the Namawongo Slum area of Kampala Uganda. Each bead is individually made with love to support the education, health care and a better future of slum children. They are rolled and varnished paper and magazines and then made into necklaces.
Cost per strand is $30 plus postage.
How to Use:
1. Wear with pride and spread this precious story.
2. Use as prayer beads - say a prayer or find a gratitude point for each bead on the strand.  Feel the love from your heart connecting to the love from Little Light Childrens Centre.