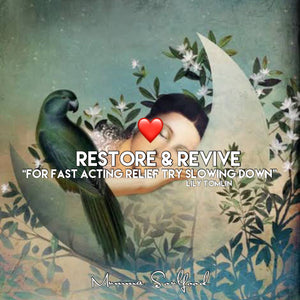 CAPE SOUTH
October 2024 Restore & Revive Retreat - Deposit
Sale price Price $500.00 Regular price
Tax included.
Shipping
calculated at checkout.
October  – Restore & Revive
Luxury Wellness Retreat
" For fast acting relief try slowing down." Lily Tomlin 

When did you last put yourself first?
Are you ready to restore & revive?   This Luxury Wellness Retreat is especially curated for you to step out of the busy ness of your life to experience the restorative power of rest, presence and self care to rejuvenate and restore. 
This is a time especially for you.  To slow down, prioritise you, nourish your body, mind and soul.  A time to remember and practice the art of deep rejuvenation. 
We all know what happens if you don't slow down when driving into a corner.  The same is true for life.  We practice the art of slowing down and the tools that helps us when life turns its corners.  We come to "weave a parachute" for those times that life has us feeling like we are in free fall. Inviting us to remember how to embrace change and look at these times as opportunities. 
Using a range of ancient healing salves especially designed to help you create space to come back to centre, de stress, sink into self care and restore energy. 




  "For fast-acting relief, try slowing down." - Lily Tomlin

When was the last time you put yourself first?



Dates
Thursday 17 October (programme begins at 3pm) to Sunday 20 October (programme ends by midday)
The Restore & Revive Wellness Content Includes -


A deep dive into restorative yoga. A completely relaxing form of supported yin yoga poses.

 

To release tension, relieve stress and bring ease and flow to the body and mind.

 
An introduction to mindfulness and a simple take home guide and learn a powerful heart centre meditation to take away and use. 
An exploration of the use of progressive muscle relaxation to address the tensions in the body, mind and emotions to induce a deep state of relaxation.
Experience a range of Basic Breathing Method practices and earn how they link to relaxation theory plus a breathing meditation from "The Heart of the Buddha's Teaching" by Thich Nhat Hanh.
A guided walk on private farmland.
A workshop to explore your dormant potential, core values and curate your visions, hopes and dreams. 
You'll walk away with a new sense of inner peace and greater sense of meaning, purpose and wellbeing. You'll take powerful tools and insights back into daily life so that you can live your life with a sense of ease, passion and peace.
ABOUT OUR RETREATS
A nourishing blend of relaxation, movement, meditation, delicious organic seasonal food, learning & most of all time to put yourself first. Hosted at the luxurious Cape South Country Retreat and Wellness Centre facilitated by Kate & Cam McLeay and a team of her favourite local legends.   
An opportunity to step out of life's routines and dedicate real time to putting yourself first. Over the retreat we will share wisdom on holistic wellness and how to positively enhance this for more clarity, ease and enjoyment of life. With decades of experience in education, hospitality and adventures we've seen the profound changes these experiences can bring and what happens when people take time for themselves.
A menu of activities over the weekend is available to choose from, along with plenty of time to rest, connect and rejuvenate.  Attend all on the schedule or select what makes your heart sing.
What's Included
3+ day retreat with 3 nights luxury accommodation

All meals, snacks, coffee & herbal teas, smoothies, purified water, homemade kombucha shots

Nourishing movement classes including Yoga & Five Treasures Qi Gong

Mindfulness & Meditation with instruction and support to establish a daily routine

Two educational wellness workshop sessions

Food talks & a food demonstration

A guided coastal walk on private farmland with hilltop yoga

Full access to all Cape South facilities -gym, magnesium pool, Infra red sauna, hot tub, grounds capesouth.co.nz

All yoga equipment

Access to spa treatments at a preferred rate

Take home Qi Gong practice
The Investment
 Prices include GST. 
3 Day, 3 Night Retreat
Special Early Bird Launch Prices Available until Feb 29,2024. 
Luxury Ensuite

Twin or Double Share: Early bird price $1360 per person (reduced from $1700)
Single Occupancy: Early bird price $1960 (reduced from $2300)
Triple Occupancy: Early bird $1085 per person (when booking together, reduced from $1490)
No Residential: Early bird price $860 (reduced from $960) 
 About Our Stunning Venue
Cape South is a multiple award winning magical, totally unique luxury retreat located only 8 minutes from Waimarama Beach, 20 minutes from Havelock North or just 40 minutes from Napier Airport.  The gracious 8 ensuite bedroom French Colonial style homestead & cottage is situated on 16 acres of grounds and gardens with expansive views of the coastal hinterland.   Retreat facilities include a mineral pool, gym, spa, infrared sauna, yoga studio, apothecary, medicinal herb and permaculture vegetable gardens.  The venue has been blessed and consecrated for deep healing and offers the ultimate luxury escape for a true exploration of wellness.
About the Food & Fare
 Our food is full of nutrients, seasonal, fresh and prepared with great love and care. Our food is wheat free, meat free, dairy free and refined sugar free.  Usually predominantly plant based. Local produce, organic and home grown from our vegetable and apothecary gardens where possible.  Our signature wellness retreats are alcohol free.  We serve a range of nourishing medicinal drinks to heighten health and aid digestion - smoothies, juices, fire cider and kombucha home brews, Chinese and local tonic herbs.
About your Hosts
"Kate and Cam welcomed us all with with open arms and mountains of love."  Sarah
Kate McLeay
Kate has been a teacher in many forms her whole adult life. Starting as an early childhood then primary school teacher and went on the become an International School Principal, advisor, board member and teacher trainer. She gave up her day job for her passion In wellness after years of study in yoga, meditation, mindfulness and holistic healing through massage and energy medicine. For over a decade she has led classes, retreats and workshops in wellness. She loves to share her work to a diverse range of audiences - workplaces, hospitals, schools and prisons.. to you.  She loves how the magic of simple wisdom equally reaches all who choose to walk this path.
"Thankyou Kate.  You are a very special person.  You have an amazing talent to bring a group of strangers together and have them leave as good friends.  I was apprehensive about doing a retreat like this but loved every minute.  Thank you again for sharing so much, you really do make a difference and have a wonderful gift." JS
Cam McLeay
Cam is a character of note who loves people and sharing stories of his adventures and passion for wellness and nature.  Cam is a qualified chartered accountant and yoga teacher who has spent more time on rivers and in wild places than at a desk.  He is a world renowned rafting guide and adventurer having navigated the Nile river from Sea to Source, establishing a new "longest source" of the Nile in Rwanda.  Featured on the whole fourth episode of Joanna Lumley's Nile as well as over a dozen documentaries he also signed the programme and supported many film gigs including Top Gears East Africa adventure.  Cam loves the outdoors but is a long time dedicated yoga and meditation practitioner.  With over 2 decades of regular daily practice he loves how these simple powerful tools keep him on his bike, surfboard and on mountains and rivers. 
"A real highlight for me was getting to know Cam a little on our walk – and his hill top yoga – I mean wow, where were the cameras for that marketing moment?" Cath
The Dream Team
Over the retreat you will also be looked after by members of our dream team.  These can change depending on group size and our crews availability. We love to have a variety of passionate foodies and cooking legends in the zone as well as some treasures who "make it all happen".
Testimonials
"From the minute I stepped in the door, I felt at home. It was a lovely long weekend of meditation, restorative yoga, meeting wonderful people and being nurtured and nourished with incredible plant-based food. I came home feeling inspired, able to take on the world and generally like a huge weight had lifted. Thank you, what a blessing your retreat was."  Alex 
" It is challenging to find the words to express how amazing my experience was on this retreat. It surpassed all of my expectations. Kate and Cam are inspiring teachers who provide such a beautiful way of connecting to your true self. Every detail of the retreat was attended to with intention and love. The setting was perfect to relax, and the environment was one of total acceptance. There was space for quiet and personal growth, as well as space for connection, joy, love, and laughter. Give this gift to yourself, accept this opportunity, and come to this retreat."  Annie 

"Words do not do justice to the amazing, life changing experience I had while there…. Kate and Cam welcomed us all with with open arms and mountains of love. There was no pressure to participate in all of the activities planned but I wanted to try it all and am so pleased that I did. Kate has given me tools that I will be using for the rest of my life to help navigate whatever situation I'm in. The food was outstanding, we were nourished with copious amounts of healthy delicious meals and snacks. I made friends for life with the other girls that were retreating as we all connected on a soul level. So grateful that I was able to experience the awesomeness of Cape South and Kate McLeay, I will never forget this wonderful experience, and can't wait to go back again."  Sarah 
"Thanks again for the most amazing magical weekend.  Its going to stay with me forever."   Joanna

"Game changer."  Toni  
To Book
To secure your booking head online to www@katemcleay.com to pay your deposit to secure your place.  Alternatively you can pay on invoice via online banking, cheque or cash.  For any queries or bookings email Cam on info@capesouth.co.nz or call Cam on 0212229363.
WHY?
Your whole body will thank you, and you'll practice and embed simple yet powerful tools to incorporate back in your daily life. Cleansing the inside to glow on the outside.  Keeping your body in great shape to create and maintain a healthy, nourishing and inspiring lifestyle.
 You'll walk away with a new sense of inner peace and greater sense of meaning, purpose and wellbeing. You'll take powerful tools and insights back into daily life so that you can live your life with a sense of ease, passion and peace.
Be Part of the Bigger Picture
10% of profits help fund the teaching of Mumma Soulfood Prison Mindfulness Programmes with former inmates from Mangaroa Prison and Community Support Mindfulness with Kate McLeay.
"I had the best ever weekend and my heart is content beyond explaining."
Emma