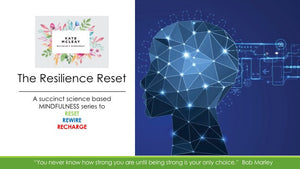 Kate McLeay
Private Mindfulness Mentoring- The Resilience Reset
Sale price Price $1,222.00 Regular price
Tax included.
Shipping
calculated at checkout.
💎  THE RESILIENCE RESET 💎
A Mindfulness Mentoring Program for DEEP Transformation 

DEEPEN CLARITY, SHIFT MINDSET, BUILD TRUST
"Kate your genuine care has helped me so immensely and I can't articulate how much this meant for me and how huge an impact the Resilience Reset has had in my daily life. I am eternally grateful for you sharing your wisdom & love."
💎 INVITATION

Join Kate McLeay for this new succinct science based mindfulness programme to rewire, reset and recharge for RESILIENCE.
"Vibrant, Focused, Powerful - I now have increased awareness of my own resilience everyday!" 

💎 WHEN

Your private MINDFULNESS MENTORING - THE Resilience Reset can start at your leisure and be tailored to suit your goals and dreams.  Are you ready to DEEPEN CLARITY, SHIFT MINDSET, BUILD TRUST?  To explore what else is possible. To clarify, connect to abs ignite the beauty of your dreams. 

💎  THE RESILIENCE RESET PLAN 

Session 1 - RESET- Deepen Clarity 90 minutes on zoom

Session 2 - REWIRE - Shift Mindset   90 minutes on zoom
Session 3 - RECHARGE - Build Trust 90 minutes on zoom
Session 4 Capstone - Consolidate & set the life compass  - 90 minutes on ZOOM
It is recommended to schedule your private sessions at weekly or fortnightly intervals… but this can be flexible and tailored to your program and needs. 
💎 WHY

We can all explore deeper levels of wellbeing, peace and personal power.  This is a potent opportunity to  take time to honour where you stand in this point in time. To take stock amidst the ever changing landscape of life. To recognise the resilience you have lived to date.  To explore and embed new ways of being. 

I am excited and deLIGHTEd to launch this mentoring opportunity after committing to studies in this field then formulating and trialling this format in variously settings for the last many years. 

Why? You are worth it and the world needs you to be the best version of you. 
💎 WHATS INCLUDED

* 4 x 90 minute private interactive zoom mentoring  sessions masterfully designed to immerse you in the crafting of your best life.  To gain valuable first hand experience of the tools, get the latest world class cutting edge intel in this field of resilience and intelligent change, explore and imbed what greater levels of resilience look and feel like to you.   Includes practical use of tools and space to contextualise this to your current challenges and goals. 

* Recordings of each session available for 6 weeks after the close of the series.

* Post session emails including notes, a copy of the material and links to guided meditation and tools.

* 21 texts over the time period of your sessions with inspiration and anchoring into the content via mobile or Whats Ap.  
💎 SOME OF THE TOPICS EXPLORED 
Definitions and leading practices to build resilience, understanding & harnessing stress, mindfulness theories & tools, leadership of self and others, enhancing breathing techniques, building blocks of resilience, understanding negativity bias and the unconscious mind, building self compassion, identifying triggers, active listening, concentration building, assertive communication tools , empathy, psychological safety, the trust model, Meditation techniques, mindfulness tools, hacks and micro practices.  
💎 The Stepping Stones to the Best You
❤️ use MINDFULNESS
🌕 to grow SELF AWARENESS
❤️ to increase SELF MANAGEMENT
🌕 to maintain and build MOTIVATION
❤️ to deepen into the power of EMPATHY 
🌕 to explore even greater levels of LEADERSHIP


💎 WHAT YOU WILL NEED

* Yourself and a willingness to shift
*. A device and internet connection (You will be sent a zoom link and instructions and you will be sent a WhatsApp invite)
*. A journal and pen


💎 COST & HOW TO BOOK
Just NZ$1222 includes GST 
Book VIA THIS WEBSITE in the attached link.
OR
Booking with pre payment is required to secure your place. Payments via the website with credit card. OR via bank transfer to Sage & Soul Ltd 38 9022 0321594 00
I offer 4 koha places to this opportunity each year.  If you don't have the financial means to pay for this in it's entirety in NZ$ … but have a heart to serve the greater good and have a burning desire to reap the benefits of this mentoring then your enquiry would be welcomed.  

💎 AVAILABILITY  - do check in to see if our availability matches.  If you are new to working with me or would like to discuss this investment before signing up a 30 minute call to connect is available free of charge. 
💎 CAN YOU DO THIS WITH A PRIVATE GROUP OR WORKPLACE ? 
YES.   Workplaces .. groups of friends .. get in touch if you would like a group quote.  
💎  WHAT IF IM NEW TO MINDFULNESS
This programme will fully support you and meet you were you are at.  While this programme covers the latest in Resilience and Mindfulness Research it also supports the foundations of mindfulness.  It will support you to integrate the gifts or mindfulness into your life in a way that suits you.  


💎 WANT TO KNOW MORE
PM Kate @ Mumma Soulfood or text 021 2229372.


#comeflywithme 🕊

You should come. You will be so welcome.

Much love,
Kate
www.katemcleay.com

Ps: you are beautiful


❤️ About Kate McLeay
Kate has been a teacher in many forms her whole adult life. Starting as an early childhood then primary school teacher and went on the become an International School Principal, School Advisor and Teacher Trainer.  She gave up her day job for her passion In wellness after years of study in yoga, meditation, mindfulness, resilience building and holistic healing through massage and energy medicine. She has now led classes, retreats and workshops in wellness for well over a decade. She loves to share her work to a diverse range of audiences - mostly with successful women and men who want to explore what even greater levels of success can look and feel like.  She is frequently found doing her thing at forward thinking workplaces, corporates, hospitals, schools and also loves to support and work with former prisoners from her 8 years on volunteering "inside".  
She loves how the magic of simple wisdom equally reaches all who choose to walk this path. Read more @ www.katemcleay.com
Testimonials 
❤️ "Loved it all and the sequence made perfect sense. Thank you for putting these gems of enlightenment together in a user-friendly container. It was very much like a warm, comforting cloak."
Jacqui Hartley-Smith, NLP Master Practitioner and Author.
❤️ "If you are thinking of re-setting your resilience, take Action and do the 21 Day Resilience Reset with Kate NOW!
After completing the Resilience Reset I am now meditating, journaling and exercising at least once a day. I have found the micro-practices Kate shared with us incredibly useful, from work to personal situations and notice an Immediate shift in my feelings, emotions and state of flow when I implement them.
I really loved the messages from Kate, and looked forward to getting them  (and I have them to go back to and 'refresh' whenever I feel the need). I feel I am now 'back on track' with my journey and am feeling more vibrant, positive and am really loving my life!"
Robyn Cherry - Campbell