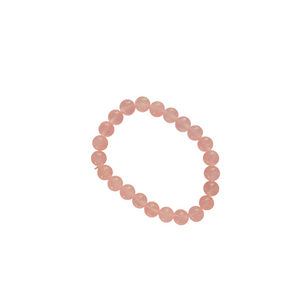 Kate Mcleay
Rose Quartz Bracelet: The Crystal of Love and Healing
Sale price Price $18.00 Regular price
Tax included.
Shipping
calculated at checkout.
Rose Quartz is a gentle and nurturing crystal renowned for its soothing pink hue. Its energy is centered around love, making it a beloved gemstone for various aspects of well-being.

Benefits:
Advantages for the Physical Body:
Promotes cardiovascular health by regulating blood circulation and lowering blood pressure.
Aids in better sleep patterns and reduces insomnia.
Accelerates the healing of skin conditions and scars.
Eases muscle tension and headaches.
Emotional Benefits:
Encourages self-love, self-acceptance, and compassion.
Alleviates stress and anxiety while fostering emotional stability.
Heals emotional wounds and promotes forgiveness.
Enhances empathy and nurturing qualities.
Spiritual Benefits:
Opens the heart chakra to attract love and harmonious relationships.
Amplifies feelings of peace, serenity, and inner healing.
Enhances intuition and connection with higher spiritual realms.
Balances yin-yang energies for spiritual growth.
How to Use:
Wear as Jewelry: Adorn yourself with Rose Quartz jewelry to carry its loving energy throughout the day.
Meditation: Hold Rose Quartz in your hand during meditation to deepen your connection to self-love and emotional healing.
Place Under Pillow: Place a Rose Quartz under your pillow for restful sleep and to heal emotional wounds.
Bath Ritual: Add Rose Quartz to your bathwater for a soothing and heart-opening experience.
Affirmation: "I am open to receiving and giving love. My heart is a center of compassion and healing. With Rose Quartz, I radiate love and harmony in all aspects of my life."